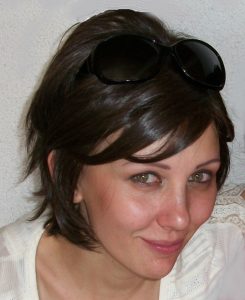 Slavica Karbeva Stojkovikj graduated from the Faculty of Natural Sciences and Mathematics at The Cyril and Methodius University in Skopje, Macedonia. She is working on a Master's degree on the Application of Software in Maths Classes at the same university. She works as a maths teacher in the 'Petar Pop Arsov' Primary School in Bogomila, Cashka.
She has worked as a teacher trainer for the last 15 years, in the area of the innovative usage of technology in all levels of education and developing a teaching resources, lesson plans, scenarios and videos that provide support to teachers on the basis of existing teaching curriculum in the field of STEM.
She is conducting research on Transformative learning with technology, Inquiry-based learning, Data visualization and preparation of electronic tests. She is particularly interested in filming examples of good educational practice and uploading them on a personal video aggregator.
Starting from 2014 she has been recognized by Microsoft Educator Network as a Microsoft Innovative Educator Expert, and she has a chance to participate on Global Microsoft Teachers Forums and Global Learning Connections with classrooms all around the world.
Her achievements have been rewarded many times in the field of Innovative Approach with the Application of ICT in Teaching, Intellectual property rights and establishing increased productivity and method of application of Office365.